Jennifer O'Connell - Member Spotlight
Jenn O'Connell
also known as "JOC" loves to kick off the day with a coffee, dark no sugar, a run and a to-do list. She likes to end the day with some snuggles from her pug, @curlytailBentley, a glass of red, and a view of the stars.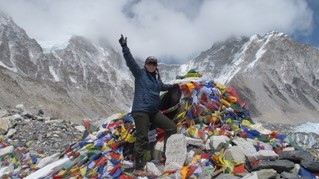 Jenn enjoys hiking and traveling and has checked some of the world's greatest hikes off of her list. Everest Base Camp, the Chomolhari Trek, and Torres del Paine are some of her favorites for their scenery, challenging hikes, and culture. She thinks Kilimanjaro is overrated and knows Mt. Kenya is a hidden gem with Dr. Seuss style vegetation. Note: on a clear day, you can see Kili from the summit of Mt. Kenya.
Jenn also loves hostessing, cooking, and baking and finds it a great way to de-stress. She is well known for chocolate, peanut butter chip cookies inspired by Levain bakery. One of her favorite meals is a reversed seared filet and her favorite vegetable, haricot vert, with a bourbon peppercorn sauce or horseradish aioli which she can pull together in under 30 minutes.
Despite being a born and bred NYer, Jenn moved to North Carolina last year and is enjoying exploring the local area and trying most things Southern. To counteract some of the Southern influence, Jenn started a plank challenge in March 2022 and can now hold a plank for over 4 minutes!